Back to search
Ton Dubbeldam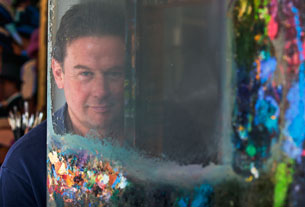 Ton Dubbeldam (1957) has developed his own style with a combination of realism, impressionism, pointillism and luminism in his career. He paints a world full of shape, color and light in a pleasant rhythm. Figurative and abstract at the same time. After years of experimentation and steady developement, the fusion of these two poles has been made to his brand. It is this particular style that connects the visual world with his own experience.
The choice of subject is diverse; northern light versus the warm and colorful Mediterranean light, but also the extravagant life of the rich & famous versus the intimate light in nature.
Ton Dubbeldam has built an impressive reputation at home and abroad. In the United States, Dubbeldam is represented by Brown Barn Publishing and exhibits in Key West, Carmel, San Diego, San Francisco and Hawaii.