Back to search
Peter J. Sterkenburg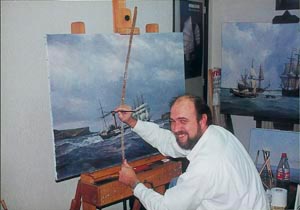 In the last few years of his life, the Frisian marine painter Peter Sterkenburg (1955-2000) had been so successful that his paintings were sold even before they were completed. On a scrap of paper stuck to the door of a cabinet, he had jotted down all the assignments which, unfortunately, would never be realised. But the paintings he did finish are spread all over the world and they are a source of pleasure for the fortunate owners. The Holland America Line, Smit International and the Maritime Heritage Foundation, to name a few, all possess one or more "Sterkenburgs" as do some famous people, such as Donald Trump.
Unquestionably, the artist is one of the foremost Dutch marine painters of the 20th Century. Especially during the last ten years of his life he enjoyed the recognition of his work but, because of his modest character, he preferred to remain in the background. He could do without publicity, since everything he painted was sold in less than no time anyway. This may explain why his work is only known to a small group of connoisseurs.
We hope that this web-site will contribute to the appreciation of his fine paintings and that, in future, his work will get the recognition it has deserved for many years.
The "Peter J. Sterkenburg Maritime Paintings Foundation" was established in February 2001 with the objective of bringing the attention of a broad public to the work of the Frisian marine painter Peter Sterkenburg, who died untimely in 2000. The foundation assists amongst others with the organisation of exhibitions as well as publications, supplies information and gives interviews.