Back to search
Karel Buskes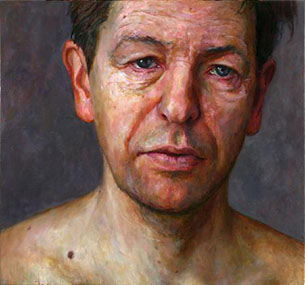 Born 1962. Studied from 1980-1985 at Minerva Art Academy in Groningen. Corporality is the primary theme of his work, and is addressed through paintings and drawings of people and animals.
Most of Buskes' paintings centre on cows. His cow paintings have a monumental quality; he sets the cows' bodies as large, space-filling areas in the design with a strong eye for the odd shapes of these animals. The use of unusual close-ups in his compositions increases the feeling of space beyond the edges of the picture. Buskes' cows are almost tangible in their corporal presence. His paintings depict the poignancy which cows, in their awkward clumsiness, evoke. Buskes draws his cows at the stock market, where he is especially fascinated by the rich and varied shapes of the scrawny and sick animals. The vulnerability of these cows is visible in his paintings. Buskes' use of colour is warm and restrained, rich in nuances. His more recent work shows an increase in the attention given to light.
Buskes won the Egberts Prize in Groningen in 1991, and in 1997 he was awarded the Mesdag Cylinder Prize in The Hague.