Back to search
Carla Rodenberg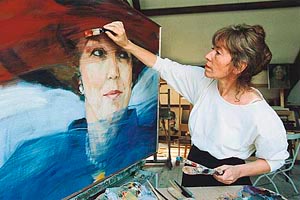 Rodenberg studied art at the Royal Academy of Art in the Hague, where her love of portrait painting began. This love was put into practice right from the start; as soon as she finished academy she began teaching and accepting portrait commissions. It was not long before well-known people - professors, business directors (also e.g. in the USA and other countries)-- began asking Rodenberg to paint their portraits.
Rodenberg must always meet the actual person before doing a portrait, as it is important for her to know the person; the likeness is not only physical, but reveals psychological insight on the part of the artist.
Rodenberg's facile etching of Queen Beatrix (1995) was chosen by the queen as her official portrait, and hangs in governmental offices throughout the Netherlands.
Rodenberg also makes huge, colorful flower still lifes.