Back to search
Hans Versfelt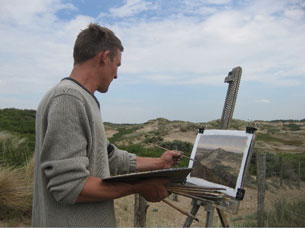 Hans Versfelt was born in 1968 and currently resides in Breda. Hans Versfelt started his studies at the Minerva Academy in Groningen but stopped after a year. After a few years he studied again at the Academy for Art and Design St. Joost in Breda and then at the Academy of Fine Arts in Antwerp.
The Bredase painter Hans Versfelt depicts landscapes, cityscapes and portraits, always on location and after observation. He always has to do with the weather and moving people. The hard wind, rain and alternating light can make working in this way chalenging.
"This weekend I painted at Katwijk Beach, and there was a lot of wind on Saturday. The rough sea is beautiful to see but the hard wind makes it difficult to capture it: the painting has landed twice in the sand. The next day the weather was suddenly very friendly and the beach was populated with walking people and playing children. "